INDESEC 2011 - India's Homeland Security Exhibition and Conference 20th-22nd June 2011, Pragati Maidan, New Delhi
Mistral participated in INDESEC 2011, one of India's largest annual Homeland Security shows, held at Pragati Maidan.

At INDESEC, Mistral showcased its world-class technology and systems for providing effective, efficient and essential Homeland Security solutions. The event was attended by key decision makers determining India's maritime, border, airport, police, transport, critical infrastructure security and disaster management requirements. On display was the Mobile Command, Control and Communication Solution (MC3S); a unique, adaptive and all-encompassing command, control and surveillance solution pioneered by Mistral, best-suited to meet the needs of Homeland Security in the Indian environment.
TI Tech Days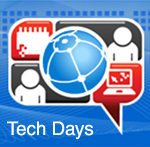 TI Tech Days are 1-2 day training/networking events that bring integrated training on embedded processors, analog and a variety of applications, tailored by location and featuring opportunities for discussion and interaction. Mistral has been part of series of TI Tech Days in the US showcasing its latest offerings on the TI platforms. Mistral is participating in the TI tech Days to be held at Austin, Texas on August 18, 2011 and at Boston, Massachusetts on September 13, 2011
International Radar Symposium India 2011 (IRSI-11)
Mistral participated in one of the biggest biennial Defense event, the International Radar Symposium India (IRSI) 2011 from 2-4 December 2011 in Bangalore. Mistral was also one of the Gold sponsors for the event.

IRSI-11 was jointly organized by IEEE Bangalore Section, IET Bangalore Network, IETE Bangalore Centre and Society of Electronic Engineers (SEE). The event allows Defense solutions providers and system integrators to showcase their offerings and product/system demonstrations to key Defense personnel from the Indian government and other private players. The theme of Mistral's stall design was to highlight the end-to-end solutions and services offered across all Defense domains targeting applications in ground-based, airborne and naval systems. There were demos from Mistral and its partners Curtiss Wright Embedded Controls, Wind River, RTI and Esterel Technologies. From the Professional Services segment, the GPS navigation and wide-band frequency synthesizer were showcased. The demos from partners included Curtiss Wright's Soft Scan and Sentric 2 Surveillance solutions, Esterel's SCADE solutions for ARINC 661 standard avionics displays and RTI's Data Distribution Service (DDS) solution on Wind River VxWorks platform for integrating multiple mission-critical real-time systems.