ESC India 2012
Members from Mistral's engineering team presented two papers at the prestigious Embedded Systems Conference 2012, India (ESC) held from 18-20 July 2012 at the NIMHANS Convention Centre in Bangalore. In its sixth year now, ESC India attracts over 500 embedded system engineers and technical experts to attend, share knowledge, network and update their information.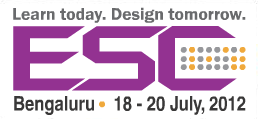 Details of the paper presentations made by Mistralites are as follows:
PRESENTATION #1
Title:
 Building an Android application with Real time constraints
Presenters:
 Nagaraj R and Vijay Kumar K V
Date:
 Wednesday, 18th July 2012
Time:
 16.35 – 17.50 hrs (75 minutes)
PRESENTATION #2
Title:
 High Performance Computing on FPGA
Presenters:
 Jake Machado, Sarath Mohan K T and Rajesh Chakkingal
Date:
 Friday, 20th July 2012
Time:
 14.00 – 15.15 hrs (75 minutes)
Sitara ® AM335x workshop
Mistral participated in the two day Sitara ® AM335x workshop organized by Texas Instruments. The workshop was held on 19th & 20th June at Taj Vivanta, MG Road, Bangalore. Mistral is a Platinum member of TI's Design Network and is a part of a niche group of international companies that offer system-level design services and products, providing accelerated product innovation and time-to-market to product developers. Mistral has collaborated with leading companies on projects based on TI's leading platforms like Sitara, OMAP4, DM81xx, AM/DM37x, AM/DM18x among others, in providing custom design services to build next generation devices like android based smart phones, in-flight entertainment systems, e-book readers, augmented/virtual reality devices, head mounted devices, tactical computers, bar code scanners among others.