How In-Flight Entertainment Systems evolved over the past few decades
Introduction
What makes passengers air travel interesting? Window seats? Delicious meals and snacks? Or a full-fledged entertainment system?
Today's generation of passengers craves for a great experience on-board which makes them feel satisfied and happy during their long-haul journey. This is where in-flight entertainment systems play a significant role! Inflight Entertainment, a key factor of the enjoyable passenger experience is progressing as the technology advances. This advancements in technology have given birth to the era of "trickle-down IFE" systems which has let airlines to provide benefits of premium entertainment content to their passengers. It has evolved right from offering a traditional form of entertainment such as movie, music, radio for selected cabins to embedded seat-back IFE systems to every individual.
What is In-flight Entertainment?
In-flight entertainment (IFE) refers to the entertainment provided to airlines passengers. IFE can either be watching movies, entertainment channels, business, and news, listening to music or playing online games. They also facilitate and provide a wealth of information that could be of benefit to passengers, like, information on the travel route, onboard menu and procedural guidelines and other informative inputs. IFE systems have come a long way an occasional projector movie to sophisticated seat-back computers loaded with movies, games, maps, music and much more.
How IFE evolved over the past few decades
In-flight entertainment (IFE) is often what gets many of us through the tiresome, long-haul flights. This service has been adopted by many airlines over the years and airlines are continuing to evolve & innovate new ways to keep the passengers entertained.
The modern in-flight entertainment system was born in the early '60s when Trans World Airlines (TWA) installed a 16mm film system on a black and white TV monitors capable of holding the entire film, developed by David Flexer for the first time. Later Avid Airlines product developed a pneumatic headset which was then absorbed by TWA.
Throughout the early to mid-1960s, some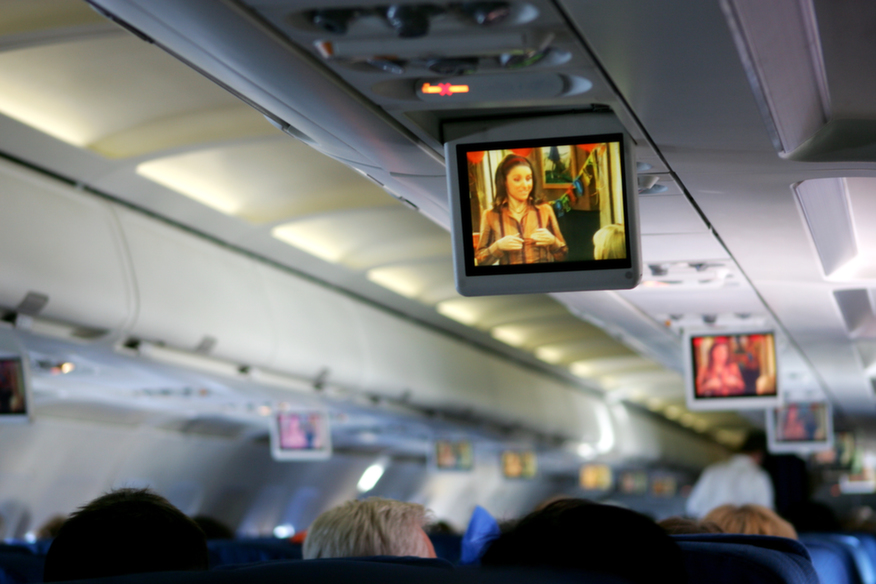 in-flight movies were played back from videotape,  using early compact transistorized videotape recorders, and played back on CRT monitors.  These bulk-head displays were commonly placed in the aisles above the passenger seats after every few rows. More than twenty monitors were installed in an aircraft, and passengers viewed movies on this unique closed-circuit system. This was an era far before the days of solid-state circuit boards and light-weight systems.
In the late 1970s and early 1980s, CRT-based projectors began to appear on newer widebody aircraft, such as the Boeing 767. Some airlines upgraded the old film IFE systems to the CRT-based systems in the late 1980s and early 1990s on some of their older widebodies. In 1988, the Airvision company introduced the first in-seat audio/video on-demand systems using 2.7 inches LCD technology which were run by Northwest Airlines on its Boeing 747 fleet. It received overwhelmingly positive passenger reaction and as a result, it completely replaced the CRT technology.
The advancement in the Consumer electronics industry with smartphones and display technologies the display screens got thinner & lighter. This revolutionized the IFE and lead to the concept of personalized screens for each passenger.
In the past decade, as Android became the mainstream of technology life, airlines and IFE OEMs started to migrate their in-flight entertainment system to run on Android. According to Virgin America, "using Android makes the system easier to maintain and upgrade". With Android-based inflight systems, passengers will be able to play games, watch movies, listen to music, order meals right from their comfort seat. The system also supported USB ports, audio jacks, and a credit card reader. The current IFE systems consist of a crew control system, seat-back display unit, the system and content server, satellite antenna, infrastructure components, the Wi-Fi in the aircraft, the data and power cabling and the wireless access points to link to passenger's personal electronic devices.
The current decade's innovations have focussed on customizing IFE to suit passenger needs. A sharp trend shaping the travellers' inflight experience is the option to plug-and-play with their own devices.
The latest IFE systems with Android-based architectures are fully scalable and highly customizable. It enables passengers to make payments through secured apps, order services via apps and also enjoy a wide range of entertainment applications.
In-flight Entertainment Features
IFE systems can provide various features for different parties such as airline companies, cabin-crew members, and passengers. These features are enabled through software and hardware components. The Inflight Entertainment systems also create a dynamic link between passengers and crew members.
Audio and Video Entertainment
The next-generation In-flight Seat Video Display unit provides passengers with access to broadcast video programming, navigation through menus, browsing web pages and access to Video-on-Demand (VOD) and Audio-on-Demand (AoD).
Some airlines provide personal televisions (PTVs) for every passenger with channels broadcasting new and classic films, as well as comedies, news, sports programming, documentaries, children's shows, drama series, video games as part of the video entertainment system. This can be customized for each passenger, who can watch the program of their interest on the Seat Video display unit. A passenger can also enhance the PTVs service by using subtitles of the running dialogue, along with the details of the characters. This special service helps viewers who have hearing difficulties. Furthermore, they can be written in a different language to help people who cannot understand the spoken dialogue.
The in-flight air map provides passengers with up- to- date information about their travel. It has become the most popular element of in-flight entertainment systems, capturing passengers' attention by posting live updates about their journey. In addition to displaying the position and direction of the plane, the map also displays the altitude, airspeed, outside temperature, travel distance travelled, elapsed time, and remaining time to give passengers the sense of movement.
At the Outset, all the airlines provided a free paper-version of a magazine to all their passengers which were placed at the seatback. Most airlines are now distributing their magazines digitally via tablet and other software applications. These e-magazines are not limited to just text; they provide various information either in the form of video or images. Some airlines also provide e-books as a value-added feature to their systems. Using an electronic version of printed media can change their importance by adding interactive features such as e-commerce services where a passenger can choose his products and buy them instantaneously.
Trends
The future and growth of IFE depend on several factors. The need to enhance the passenger experience, technological developments and an increase in aircraft deliveries with advanced IFE systems are factors expected to drive the market. However, the regulatory framework & certification and an increase in the overall weight of aircraft are expected to restrain the growth of the market.
The need for personalized entertainment has contributed to the increasing demand for IFE. Various airlines are competing with one another to keep up with the continuously evolving expectations of passengers.

Wireless IFE is a wireless content distribution system to passengers' devices. The Wireless IFE systems are lightweight compares to the traditional conventional IFE systems. Most passengers favour their own devices for inflight entertainment. Besides, the wireless IFE systems allow hassle-free internet access, browsing, video streaming, and more on passenger's devices. Airlines are also jumping on the BYOD (Bring Your Own Device) bandwagon and replacing their existing IFE by turning passengers PEDs into a comprehensive entertainment solution.
Various airlines services have installed routers to provide free Wi-Fi to their passengers. In several aircraft, data communication via satellite system allows passengers to connect to live Internet from the individual IFE units or their laptops via the in-flight Wi-Fi access. Using Wi-Fi, passengers can access movies, music, games and other entertainment media from their own devices and enjoy their journey.
Most of the airlines are offering Virtual Reality entertainment experience onboard where a passenger can just pop on the immersive glasses and watch movies or play games. These immersive headsets present a viable way of improving passenger comfort and satisfaction.
Conclusion
Technological advancements in consumer electronics have contributed to the development of advanced onboard entertainment systems to enhance the passenger experience. For instance, Virgin America is presently testing the new EcoV2 monitors developed by Panasonic. Various airlines are collaborating with IFE manufacturers to introduce jazz seat concept that offers several benefits such as improved touch sensors and display, integrated passenger control unit, and programmable attendant call buttons.
With the increasing frequency of travel and the number of options available, the passenger will be more discerning in choosing an airline. Airlines will have to differentiate on the quality of experience they offer to passengers and IFE systems will play a crucial role. Passengers will expect the IFEs to provide them with the same experience as their smart devices. It is imperative for the suppliers of these systems to consistently innovate and keep pace with emerging technologies, to stay ahead.
By combining creativity, technical expertise, and refined processes, Mistral offers cutting-edge embedded hardware and software design services for In-flight Entertainment solutions. Our in-flight entertainment solutions integrate audio, video, wireless technologies and DSP Algorithms and HMI paving the way for intelligent, connected in-flight entertainment solutions.