Wearable Electronics – Applications, Challenges and Risks
Wearable Electronics are smart gadgets and/or accessories with specific functionalities and applications. Wearable Technologies focus on the efficient and brilliant use of internet, various sensors, trackers and latest communication technologies to design intelligent devices that enable or facilitate people in their daily professional and personal routine/activity by improving the productivity, efficiency and overall quality of their output. Wearable Electronics is bringing these positive trends in the fields of Medical, Health/Fitness, Industrial, Consumer and entertainment sector s. Wearable electronics devices include but are not limited to Head Mounted Computers, AR/VR Glasses, Smart Watches, Fitness Trackers, and Smart Clothing.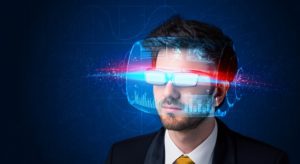 The earliest examples of wearable electronics technology are the spectacles and pocket watches that were invented centuries ago. With the advancement in technology, Internet of Things (IoT) and Ubiquitous Computing have combined to provide advanced high-performance gadgets that are capable of multitasking and communicate in real-time. Popular wearable devices that have made it to the market over the past decade include Google Glass, Apple watch, Samsung Galaxy Gear and Fitbit Health Bands. During this period, a larger interest and need for Wearable Computers, AR/VR Glasses have been fostering realizing tremendous opportunities in Industrial and Medical Applications. With the need for intelligent solutions on-the-go, Wearable technology and related Wearable Electronics Application Development will observe massive developments in the near future, giving it an edge over other technologies among technology enthusiasts and product developers.
Wearable Electronics – Solutions and Applications
Industrial: Wearable devices are set to play a major role in an industrial environment, Head mounted computers and Intelligent Headsets that work as an accessory to Smartphone enables technicians and floor managers with greater efficiency, by providing hands-free operation along with instructions, maintenance schedules and inventory information in real-time. Wearables are thus becoming a key enabler in Industrial Floors, large Warehouses, Repair & Maintenance sectors saving time and millions of dollars for the Manufacturers. Such wearable devices play vital role in real-time information capture and gateway of information to the operator in the Industrial Internet-of-Things.
Medical, Health and Fitness: Devices like Health Bands that come in the form of wristbands are one of the most sought-after smart gadgets for athletes and fitness conscious people, which help them track their heart rate, calories burnt during a work-out session, distance covered, etc. These devices are paired with user's smartphone over Bluetooth to provide various health, fitness related updates to the user. Smart jewelleries are another concept which is gaining popularity now a days. Smart bandages are some of the also being used in hospitals to take better care of patients. Wearable Smart Glasses could become a quick enabler in the Medical industry, by assisting the practitioner to quickly access the complete history of a patient, previous medications, etc. and assisting during the surgery by enabling access to instruction videos and video calls to experts for real-time assistance.
Infotainment: Wearable electronics is extensively used in gaming and entertainment industry. This includes interactive augmented reality (AR) and virtual reality (VR) headsets, smart joysticks, smart goggles, etc.
Key Components of a Wearable Device:
MCUs and sensors [IMUs, Accelerometer, Gyroscope, Magnetometer, Barometric pressure, Ambient temperature, Heart rate monitor, Oximetry, Skin conductance, temperature, GPS] form the basic hardware of a typical wearable device. Depending on the functionalities and features to be realised on the device, developers may include displays, pedometers, keypads, etc.
The key Design considerations while designing a wearable device include:
Small Form Factor Hardware
Battery and Power Management
Thermal Management
Interfaces and Connectivity
Video Streaming
Multi-sensor integration
Size, Weight and Ergonomics
Library/Algorithm Integration
Wearable Electronics Application Development
EMI/EMC Regulations
Wearable Electronics Designs and Wearable Electronics Application Development must be user-centric, aesthetically pleasing, complying with environmental regulations and easily adoptable in real life scenario where in it can solve crucial problems.
Challenges and Risks
Design: Packaging massive set of functionalities and features into these advanced devices require a lot of design thinking. User's convenience and comfort is critical and this demands for high performance/features, longer operating time while ensuring low weight, compact size, thermally safe. It can be challenging for product engineers to design a device that is universally compatible and suitable for different body types. There is lack of a common standard.
Privacy & Security: Securing the personal data of the user is one key aspect. These devices collect real-time data on health, user's behavioral patterns, his preferences, etc. which needs to be secured against any kind of cyber threats.
Health Risks: Wearable electronics technology poses health risks and hazards to certain extend due to constant radiation exposure. It is important to keep SAR (Specific Absorption Rate) in these devices to the lowest. At the same time, it is also essential that wearable electronic devices pass all mandatory safety, environmental standards.
Wearable Electronics design companies have invested considerable amount of time and effort in the R&D of futuristic wearable devices to understand the functional, technological and business needs of the modern-day devices. The ever-evolving embedded technologies have been successful in developing Small form factor, miniature, extended battery life, rugged and ergonomic, that are a key aspect of wearable designs. Wearable Electronics Application Development along with IoT and AI is set to transform the current environment. The potential physical harm can be prevented through definition of standard, precautionary design and though testing measures.