Date: Saturday, November 20, 2021
Time: 10:00am to 01:05pm IST

Inside aero and defense systems are thousands of components and more than a million lines of code. This complex system must perform perfectly in tandem with the other electronic and hardware elements. The challenges faced today are that of safety, successful design testing and validation, compliance with regulations, etc. These aforementioned challenges require cutting edge solutions that satisfies them while also being cost-effective and environmentally friendly.
Software plays a critical role in facilitating this innovation and enhancing safety in mission critical systems. From components to micro-system– there is an opportunity for software enabled innovation. Model based design, implementation and testing is at the core of accelerating innovation. Complying with standards is critical for airworthiness of systems. Safety analysis complying with ARP 4754A / 4761 can help analyze at the system level while DO-178C requires rigorous compliance at software level. Safety integrated mission planning enables visualization of complex systems in context of the mission. This approach increases the overall reliability and the performance factor by 2x, while reducing testing time and cost savings up to 50% with mission success rates that were never achievable in the past. This enables a faster time to market.
This Virtual Summit will bring together Directors, distinguished Scientists, R&D Heads, Group Heads from Aero and Defense Cluster as they debate and discuss different challenges for design and development of complex systems and how those challenges can be addressed indigenously. This summit also gives an opportunity for the audience to understand how safety integrated model-based mission planning and simulation can be leveraged to realize next generation technologies. Participants would also get a chance to interact with esteemed speakers and professionals contributing to this area.
Key Discussion Points:
– Key challenges in indigenous design and development of Aero & Defense systems.
– Model based systems engineering and process automation
– Innovation driven by safety integrated digital mission engineering
– Safety analysis of systems and complying to ARP 4754A
– Model based software engineering to enable accelerated compliance to DO-178C
– Innovation in A&D driven by lighting and VR simulation solutions
Who Should Attend?
– Engineers working in Systems and Software development
– Safety and certification responsible
– Control Law / Mission responsible
– Technology/Divisional Heads
– Research Engineers/Scientists
– Project and Program Directors/Managers
– Engineering Managers
– Electronics/Avionics Engineers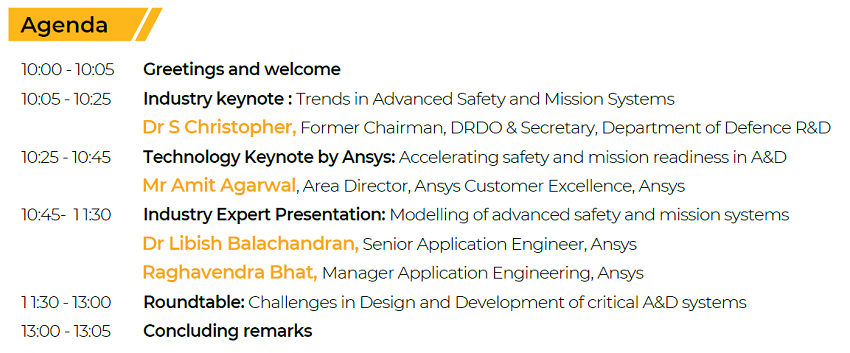 Contact for more information:
Regin Jude Cline
Tamil Nadu Technology Development & Promotion Centre
Confederation of Indian Industry
regin.a@cii.in | 7598846561