AI-enabled Anti-Drone Solutions
Mistral's Anti-drone solution is a range of highly reliable, AI-enabled intelligent drone detection, tracking and neutralizing systems with extremely high functional capabilities. These platforms are ideal for a range of security applications such as Critical Infrastructure Protection, Border Security, Public Safety, Stadiums and Tactical Operations among others.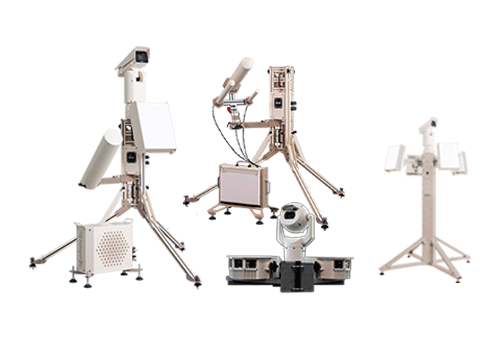 OVERVIEW
The diminishing cost of drones and its easy access to public has resulted in a sudden spurt of drones across the globe. Over time, ever-evolving technologies have made drone smaller and light-weight, while increasing its efficiency in terms of payload capacity, speed, maneuver capabilities, and control over a long distance. These developments, though in many ways beneficial, also pose a threat, not only to public safety but also to security of critical infrastructures, defence establishments and installations, communication network and law & order institutions.
The shrinking size and increasing maneuvering capabilities of drones make them undetectable in conventional drone detection systems. These drones can easily access areas of high security significance, create a jeopardizing situation, steal sensitive data such as details of defense deployments/installations and capture images and stream it to illegal personnel. Law enforcement and security agencies in our country strive to regulate and prevent these potential threats by adopting several measures. However, because of diverse frequency signature of drones and unavailability of an opensource library for drones and its frequencies, it is a challenge to detect and neutralize these aerial vehicles effectively and efficiently.
Drone Detection and Neutralizing Systems
To address this gap, Mistral in collaboration leading global communications and detection systems manufacturers, brings to you a range of state-of-the-art AI-powered drone detection, tracking and neutralizing systems. These Anti-Drone Systems detect, track, identify, classify and neutralize drones at a distance of several kilometers, by leveraging high-end Electro Optical Cameras (EO), 3D Radars, RF Detectors, Acoustic Sensors coupled with advanced Video Analytic Software. The powerful AI algorithms and video analytics not only distinguish drones from birds, clouds and other flying objects but also classify their make and models.
Features
Detection Range of 2km to 10km
Detects nano UAVs at a distance of up to 3km
98% detection accuracy
3D MIMO Radar, RF Sensors, Acoustic Sensors and D/N Cameras for detection
30/60/180/360 degree Detection Coverage
Advanced algorithms for drone tracking
Real-time event preview and tracking
Extensive library of optical drone signatures for classification
Powerful AI deep neural network algorithms based classification
Multi-target tracking to detect swarm
Substantially reduces false alarms
Jams Drone's Communication system and GPS
Supports 20 bands: ISM, VHF, UHF, GSM, UMTS, LTE, GNSS, Wi-Fi, UKF
Reactive, barrage, sweep and hybrid jamming modes
Web-based application for monitoring, configuration and controlling the system
Real-time event preview on OpenStreetMap, Google Maps
Secure connection with Virtual Private Network
Fully Autonomous Operation
Supports Integration with Existing Camera Sensors
Fixed, portable and mobile platforms
Military grade rugged cases for portable systems
PTZ camera for visual verification and recording video
Visual & telemetry data for post-incident analysis