AM65x Development Kit
AM65x Development Kit is an ideal platform for designing Industrial Programmable Controllers (PLC), Factory Automation with Safety Functions, Industrial PC and Industrial Robots, Grid Infrastructure Protection Relays, Edge Computing and Robotic Motor Drives.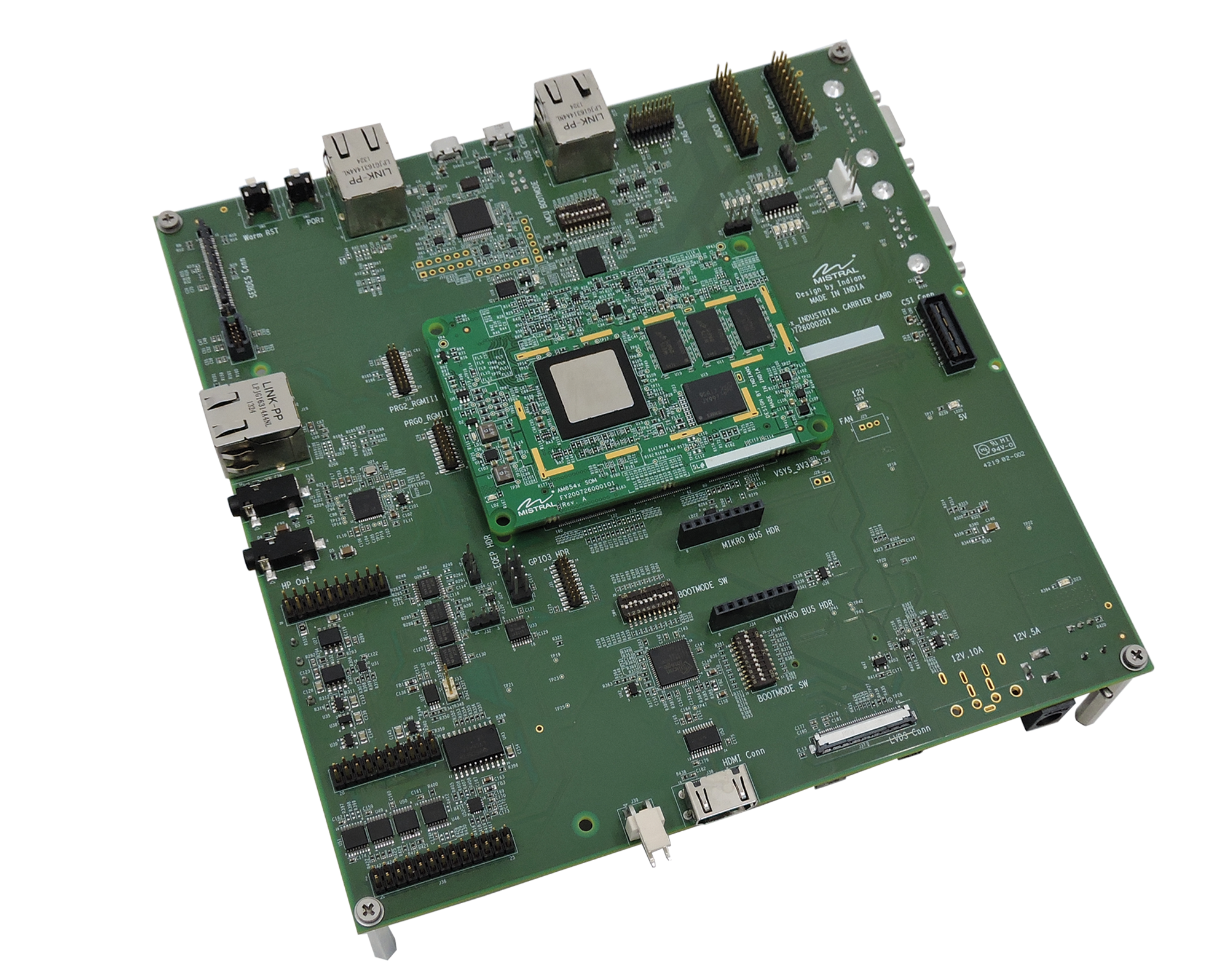 OVERVIEW
The AM65x Development Kit from Mistral, based on the AM65x Industrial SOM, is designed to meet the compelling needs of Industrial Control and Communication applications. Based on a dual board architecture, the development kit consists of Mistral's AM65x Industrial SOM built around TI's AM6548 Processor (With discrete power solution, Memory, Gigabit Ethernet PHY) and a Carrier Board that enables industrial communication and control solutions using serial, Ethernet-based, PCIe, and industrial real-time interfaces.
The feature-rich AM65s Industrial SOM supports Industrial communication thru' PRU-ICSS sub-system with supporting protocols like ModBus, OpenCAN, ProfiNET, ProfiBUS, Ethernet/IP, EtherCAT, EnDAT/EQEP, CCLink IEField, cycle-bycycle PWM control. The Industrial carrier board on the AM65x Development Kit is designed to exercise all features provided by the AM65x Industrial SOM. The carrier board provides I/O accessibility and power to the AM65x Industrial SOM board via board to board connectors. It connects the I/O signals of the SOM through appropriate peripheral interface ICs and Industry standard connectors.
Mistral provides custom adapter boards that can be accommodated on the expansion connectors, to exercise features specific to LCD, USB3.0 and PCIe. Mistral can also develop custom adaptor boards for Camera and Motor Controller (eHRPWM, EnDAT/EQEP).
TECHNICAL SPECIFICATIONS
AM65x Industrial SoM based on AM6548 processor from TI
Protocols Support - ModBus, OpenCAN, ProfiNET, Ethernet/IP
Network Interface: CPSW Gigabit Ethernet Port, 2xPRUICCSG Gigabit Ethernet Port, PCIex1, PCIex2 Connector
Display Interfaces: HDMI and LVDS
Debug Interface: MicroUSB Debug Port, JTAG
Connectivity: Supports USB 3.0 Host Port, USB 2.0 Dual Role Port, UART, 3.5mm Audio, 4-lane MIPI CSI Camera, CAN Port, Profibus Connector
Expansion Connector: MIKRO Bus Header, EHRPWM, EnDAT, EQEP and GPIOs External Controllers
Other Interfaces: RTC Controller, Current Monitor, Temperature Sensor, and Crypto Authentication
Supports Linux 4.19.38 Arago BSP and Android 9
12V, 5A DC Power input
Form Factor: 200 x 200mm
SUBSCRIBE TO OUR NEWSLETTER