Designing an Unmanned Autonomous Navigation System
Introduction
This case study showcases Mistral's expertise in Autonomous Navigation System and Autonomous Navigation Vehicle Design.
An Autonomous Navigation System or an Autonomous Unmanned Ground Vehicle [UGV] can run independent of a human operator. It depends on a set of sensors to observe and cognize the environment around it. An Autonomous Navigation System is operated using a drive-by-wire technology. It can be used for surveillance and real-time situational awareness in areas where it might be inconvenient, hostile or impossible to have a human presence. The Autonomous Navigation System commands are generated by the vision & navigation algorithms in lieu of a human operator.
The Customer
The customer is a leading Defense lab involved in the research of Information & Communication Technology and Development of Intelligent Systems.
The Requirement
The customer was designing an Autonomous Navigation System (Unmanned Ground Vehicle) and approached Mistral to develop the Autonomous Navigation Vehicle Design to be used for various security & surveillance operations. The requirements for the Autonomous Navigation System were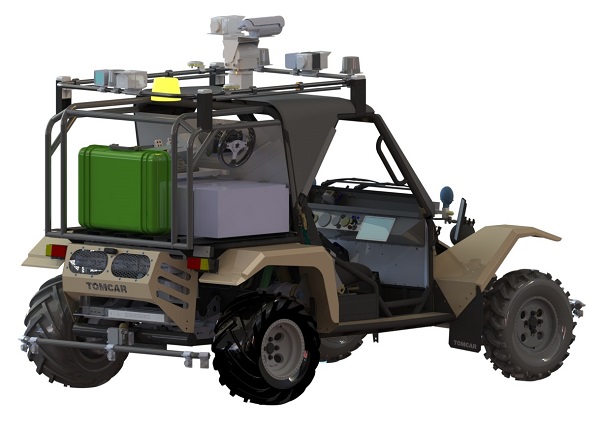 Rugged all-terrain Autonomous Navigation System enabled with autonomous driving for perimeter surveillance
Autonomous Navigation System would be ideal for 24×7 patrolling of vital installations with seamless Video Surveillance capability
The Autonomous Navigation System had to act as the first response vehicle in a hostile environment
Act as a Lead convoy vehicle
Mistral was entrusted with the complete Autonomous Navigation Vehicle Design and development, including integration of various sensors, software, mechanical outfits and components ensuring high protection from shock and vibration, and providing ruggedization for all weather, all-terrain operation.
Solution Provided
Mistral partnered with one of leading electric vehicle manufacturers to custom design and develop the Autonomous Navigation System to suit customer requirement. Mistral developed a state-of-the-art Autonomous Navigation Vehicle Design based on the customized vehicle platform and integrated electric motor controller, brake, parking, steering actuators and sensors to enable drive-by-wire. The selected all-terrain Autonomous Navigation System or Autonomous Navigation Vehicle Design was fitted with multiple sensors like LIDAR, RADAR, Ultrasonic, and Ambient light to observe and cognize the environment around it.
Read the full case study to know more about the Tracking, Surveillance and Communication systems on the Autonomous Navigation System.