Mobile Surveillance Vehicle for Pimpri – Chinchwad
Introduction
The Mobile Surveillance Vehicle (MSV) is a custom made, robust, mobile operation unit, outfitted with specialized surveillance, communication & monitoring equipment for surveillance, security & localized command capabilities. The MSV consists of various kinds of Operator Console stations, latest CCTV sensors, self-powered long-range wireless cameras, Command & Control application, backup power to run all the equipment independent of power availability at the location, Integrated Communication Switch and Live Video Streaming capability, among others.
The MSV can be rapidly dispatched to the site of disaster/emergency/incident/event and can undertake the local command, control & coordination of the agencies responding to the emergency. It enables rapid communication and coordination among multiple agencies and senior law & order officials responding to the situation, providing them complete real-time situational awareness.
This case study showcases Mistral's capability in designing and integrating a Mobile Surveillance Vehicle (MSV) for law enforcement agencies, aimed to monitor and manage massive rallies, VIP movements, and tactical security operations, among others.
The Customer
The Mobile Surveillance Vehicle is designed for Pimpri-Chinchwad Police (PCP) through Pimpri-Chinchwad Smart City Limited (PCSCL) and Tech Mahindra (Master System Integrator) who were keen on inducting the MSV with modern surveillance and monitoring system to ensure public safety in preventing crimes and maintaining law & order.
The Requirement
Tech Mahindra along with other stakeholders of PCSCL approached Mistral to design a mobile surveillance system. The MSV had to have an efficient connectivity medium between the MSV and Control Rooms for quick, effective communication, providing real-time situational awareness enabling rapid decision making. The MSV had to be highly efficient in terms of its surveillance & monitoring capabilities and act as a mini command control centre at the site of deployment.
The MSV requirements included:
Custom designed & Fabricated Vehicle

Driver Cabin,
Operator area
5-seater discussion area

Interoperable Communication System (ICS)
Live Video Streaming
On-shore and off-shore Power
Video Management System
Solution Provided for MSV
Mistral designed a small form factor, fully customizable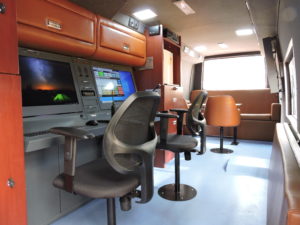 Mobile Surveillance Vehicle (MSV) for surveillance, security & localized command capabilities. The MSV was built with a flexible modular architecture on a 4270 mm wheelbase chassis from Ashok Leyland. The fully mobile command centre is designed for easy deployment at any given location. It offers video surveillance, with a mechanism to stream Live video feeds to the Central Control Room using 4G based streaming device or existing city backhaul network.
The offered solution has the following advantages:
Easy to mobilize and deploy within minutes
Minimal infrastructure required at the site
Options for on-site and remote monitoring using IP infrastructure
Fully integrated Command Control and Communication Interface
Expandable
Below listed are the key components of the MSV:
Video Surveillance
The MSV is designed to accommodate:
Operator desk with two 32'' displays monitors to show live video feed coming from vehicle mast-mounted PTZ Camera, fixed and long-range Wireless Camera
Mast mounted HD resolution PTZ Camera to provide a panoramic/long-range view of the current situation. This camera is installed along with the IR Illuminators and image stabilization features over a pneumatic mast and is deployed to provide the user with vital "look-up and see" capability to cover a wide area of security operation
The mast-mounted four High Gain Wireless Antennas offers 360-degree coverage to receive the video feeds from the field-deployed battery-powered wireless cameras
Eight long-range wireless cameras powered by Lithium-ion battery (Li-ion) packs that provides at least 6 hours of power to each individual camera unit. These cameras are designed for outdoor use and come with IP66 enclosures along with IR Illuminators for surveillance in no/low-light conditions. The portable cameras are connected with a wireless Customer Premise Equipment (CPE) device and antenna. These Wireless Tx & Rx works strictly in Clear Line of Sight (CLOS) scenario and can provide connectivity up to 1Km, provided there is no obstruction in the Line of Sight
Four Fixed Bullet Cameras with 2MP resolution and IR range of up to 50m are mounted on the vehicle to get the peripheral video feeds from the vicinity of MSV. These four cameras are installed at the front, rear and two sides of the vehicle roof
Transmission of live video streams from MSV to Central Control Room through 4G Streaming device/Citywide CCTV network. Citywide CCTV footage can also be viewed in MSV using a Citywide CCTV network.
Discussion Area
The discussion area includes a five-seater setup with a 55" display monitor for the senior officers to monitor the video feed from the 32'' display to enable real-time and rapid decision making.
Control Room Connectivity
To view the video feeds from the MSV by the Central Control Room or vice-versa there needs to be an appropriate interconnection between the two control rooms. For this connectivity, two options have been provided, namely – A 4G aggregator device with eight dongles and a pair of Wireless P2P antenna.
Since the connectivity of the 4G aggregator is based on the quality of the 4G signal at the deployed site, an alternate solution was provided by using a Wireless P2P antenna. One of those antennas were installed in the MSV and the second was deployed near the junction which was then connected to the control room using the Citywide CCTV network.
Integrated Communication System (ICS)
The MSV comes installed with an operator managed Integrated Communication System allowing the various agencies operating at different radio frequencies (VHF/UHF/HF/GSM) to communicate with each other during an emergency. The ICS system is integrated with telephony and wireless radios, call handling, monitoring, and logging functions into a single operator interface.
Other Sub-systems
Wireless Base Station to receive video feeds captured from the Wireless Cameras
LED Flood Lights – 3 Mast mounted heavy-duty LED Flood Lights for night operations
PA System – PA System with 4 speakers and wireless microphone
Power System –5.5 KVA Petrol Genset & 3 KVA UPS with batteries for power back-up.
Anti-Riot gear
First Aid and Stretcher to provide immediate medical assistance.
Sleeping bunks for personnel to take rest while carrying out 24/7 operation
Infrastructure
The vehicle is partitioned into the following sections
Driver Cabin
Operator Console Area
Conference area
Camera Storage Area
Storage Rack (UPS and Anti-Riot Equipment)
Read the full case study to know more about the customer benefits of the MSV.